Our COVID-19 Response
In response to the unique challenges that the COVID-19 pandemic has created, Book'em is committed to continuing to promote literacy in our community in safe and strategic ways. By providing educational support in the form of books, creating spaces to share high-quality resources, and working alongside Metro Nashville Public Schools and other key community partners to make all of this possible, we are confident that we can continue to create a more literate Nashville no matter the circumstances.
---
Request Books
Schools and other organizations in Davidson County may request books in order to distribute directly to children by filling out our online book request form to request books for the economically disadvantaged children and teens they serve.
---
Donate Books
Book donations make what we do possible at all times, and now more than ever we are in need of donated books to enable us to continue serving the great need in our community. We are always in need of donations of new, like-new, and very gently used children's books - from board books to chapter books (ages 0-18).
We are currently accepting donations Monday - Wednesday between 10am and 3pm at our offices in the Nashville Public Television building at 161 Rains Ave. Please see our donation page for more information or to schedule a donation.
Enter through the gate off of Rains Ave, go left at the fork, and follow the Book'em signs through the parking lot around to the back of the building. Park near the Book'em sign and call 615-255-1820, and we'll be right out to grab your books and have you fill our donation form.  If you have questions about book donations, please email us at at books@bookem-kids.org or call (615) 255-1820 for more information.
If you'd like to give books from the comfort of your home, you can participate in our Virtual Book Drive – hop online and shop local for books for youth ages 0-18. Shop at Parnassus Books, Fairytales Bookstore, The Bookshop, or your favorite online source for children's books. We welcome books of all types and topics, but feel free to check out our Amazon wish list for some of our favorites!
Book'em is also engaging our robust community of volunteers and supporters from home. We are promoting a "Spring Clean Quarantine"

book and food drive

asking community members to round up children's books and nonperishable foods to donate to Book'em. Books and food alike can be donated, and we will deliver any food to

Second Harvest Food Bank

.
---
Sign Up to Volunteer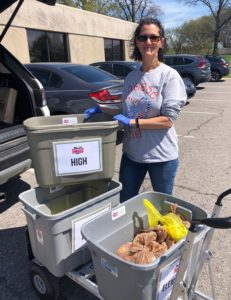 During this time of social distancing, we still need volunteers who can help while following strict health and safety protocols. Please visit our Volunteer Page to stay up to date with current opportunities as they become available.
To volunteer from home, we invite people of all ages to mail us encouraging notes for kids ages 0-18 that we can add to our book bags. They can be short and sweet, and creativity is always encouraged! Notes can be mailed to Book'em, 161 Rains Ave. Nashville, TN 37203.
---
Resources to Support Learning & Reading at Home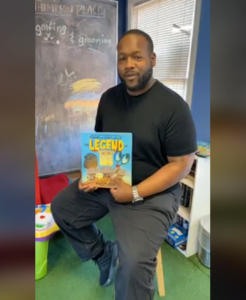 Oh, The Books We'll Read - We've recently kicked off a new online program called "Oh, the Books We'll Read!" to provide further outreach to students who are at home during this time. We have local community members who are reading books in front of a camera in the comfort and safety of their homes that will be accessible to students in the MNPS system who want some extra reading role models at home. If you are interested in reading for this program, reach out to Jocelyn at jocelyn@bookem-kids.org.
Book'em Facebook Live Read Alouds - Every Monday and Wednesday at 5pm CT on the Book'em Facebook page
Check out our blog for a list of some of our favorite online websites, apps, and other resources.
---
Make a Donation
Book'em is committed to being a pillar of support for Nashville's children and working collaboratively with others in the community. We are confident we can do this with your support.
The most pressing need we hear from our teachers, community partners, and families is for physical learning resources. To meet this need, Book'em will continue to bring books to kids through our Book Bag initiative and regular Books For Nashville's Kids program. We've restructured our staff roles and funding priorities to increase our book distributions and meet the demand as best as possible.
Right now, each week we are averaging: 2,500 books distributed, 4,875 printed resources shared, 55 volunteer hours, and 130 staff hours.
Your donation today will help Book'em sustain our increased distribution schedule. Donations will go towards (in order of priority)
Purchasing wholesale books at deeply discounted rates through our book partners
Printed materials and resources to include in book bags
Allow staff to work additional hours and fill new needs
---
Nonprofit Partners Task Force in Support of MNPS Students
Book'em is proud to be part of the nonprofit partners task force supporting MNPS students. As a group, we are coordinating our supports and pursuing collective action on behalf of the district. This task force is charged with ensuring that nonprofits and the community are meeting the short- and long-term needs of the district in a unified way, leveraging each other's resources, supports, communication tools, and partnerships to better meet the needs of students. As a collective, our first priority is to meet the immediate needs of students. At the same time, we are keeping a pulse on the innovative and extraordinary ways student supports are evolving in the face of the current crisis – we know there are lessons to be learned.
Nonprofit Partners Task Force Members:
Communities In Schools of Tennessee
My Brother's Keeper Nashville Alliance
Nashville Public Education Foundation
Second Harvest Food Bank of Middle Tennessee
United Way of Greater Nashville
---
Book Distributions at MNPS Meal Sites
UPDATE: as of May 25, we have shifted our focus to organization-based book requests and are no longer distributing book bags to meal sites. If your organization needs books, please fill out a book request form here or navigate to "Request Support" in the menu.
Book'em cannot be on the front lines of the virus, but we can be on the front lines of making sure Nashville's kids are not forgotten during this time. As safely as possible, Book'em will continue to bring books and reading resources to underprivileged youth in Davidson County. Between the tornado and COVID-19, Nashville's kids will miss over a full quarter of school. Teachers and administrators we work with report that online learning is not a realistic option for many of their students, and few kids had resources in their homes before Safer at Home began. Families are reaching out for help.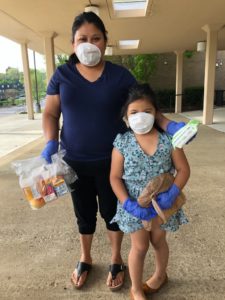 Starting on March 24th, Book'em began a "Book Bag" initiative in order to provide children with books and reading resources. Our Book Bags are tiered by age group (0-5, elementary, middle, and high school), and consist of 2-3 age appropriate books and interactive literacy activities for kids and families to do together. We distribute the bags at rotating MNPS meal sites to ensure we reach all four quadrants of the district equitably.  Book'em has donated over 19,000 books to Nashville families through this Book Bag initiative so far. Additionally, we've supplied 5,700 books (and counting!) to community partners working with at-risk youth during the pandemic (head start programs, community centers, and other nonprofits) to ensure we can reach as many children as possible.
Book'em will continue distributing books at MNPS meal sites as long as they are active, and will then shift our focus to supporting summer programs through MNPS and beyond. We're working with our school partners to complete our Reading Is Fundamental and Ready for Reading programs for the 2019-20 school year, and are coordinating with our local partners to prepare for summer reading initiatives. Our Executive Director, Melissa Spradlin, has also been asked to serve on the nonprofit partners task force to support MNPS during this unprecedented school closure. We are in frequent contact with our board of directors, nonprofit partners, and MNPS leaders to ensure that we are operating as safely as possible, taking the best course of action, and making adjustments as needed.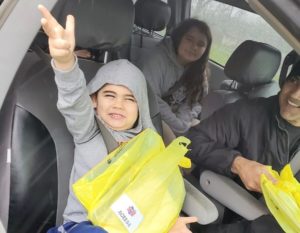 We believe that collaboration is essential during this time. Book'em is extremely grateful for organizations who have supported our Book Bag initiative with bags, books, and printed resources: Dollar General, Kroger, Publix, Osbornes Bi-Rite, Vaco, LEO Events, Nashville Book Connection, Nashville Public Library, Ride for Reading, Homework Hotline, Mostly Tomatos, Myrick Marketing & Media, Publisher Spotlight, and MNPS. We plan to continue working with community members through this crisis to ensure we reach all of Nashville's children in need.
If you have questions about any of our initiatives, please contact Melissa Spradlin at

melissa@bookem-kids.org

or (615) 255-1820. Stay healthy, safe, and enjoy a good book.