Books for Nashville's Kids
Books for Nashville's Kids (BFNK) is our program dedicated to empowering children through book ownership. Through BFNK, Book'em provides a unique service to our Nashville community — providing thousands of books to organizations that serve underprivileged youth (ages 0-18). Book'em partners with Metro Nashville Public Schools, Habitat for Humanity, Metro Public Health Department, Davidson County Juvenile Court, and more than 180 organizations to get books into the hands of kids who need them.
If you serve economically disadvantaged youth in Davidson County and would like to request books, read more below!
Book Requests
Before making a request, please keep the following in mind:
All books must go directly to economically disadvantaged children and teens for their personal ownership.
Submitting a request one month or more in advance is always recommended and appreciated.
Requests are filled on a first-come, first-served basis and are subject to availability.
Please request one book per child.
Books intended for purposes other than book ownership (such as for classroom libraries) may be requested from the "Used Books" section of the request form. These are our slightly more well-loved books, but are still screened for quality.
Organizations may request books up to four times per calendar year.
Book'em cannot fill requests for specific book titles.
Books must be picked up at the Nashville Public Television Building at 161 Rains Ave, Nashville, TN, 37203.
Book Donations
Each year, Book'em gives 100,000+ books to underserved children through partnerships with 180 schools and community organizations. The majority of these books are donated! There are many ways books are donated. They are given to us by individuals, through small and large book drives, authors, publishers, and more!
We believe that a single book can change a child's life in profound ways. It is our mission to open the door to this life-changing experience and ignite a passion for reading by providing high quality books where access is limited or nonexistent. Books that best support our mission are new, like-new, and very gently used books in excellent condition for ages 0-18.These books foster a sense of ownership, dignity, and joy in the children who receive them as gifts. A book that you would not give as a gift may be a better fit for a used book store or secondhand store. As much as we'd like to find a perfect match for every book donated, we do not have the bandwidth to handle large quantities of used books. Thank you for your understanding, your generosity, and your drive to help create a more literate Nashville!
---
Please see the guidelines below for details on books that are not in line with our mission: 
Used books in less than excellent condition – this includes excessively worn, torn, wrinkled, bent, stained, yellowed, water or smoke damaged, underlined, highlighted, written in, or otherwise damaged books, as well as those with missing pages or pieces. We cannot use activity books that have been completed in any capacity or are missing stickers or other components.
Library books – Even if in relatively good condition, books with library binding, card pockets, or discard stamps do not create the sense of ownership that we work to provide. Additionally, caregivers may mistake these as books that need to be returned to a library rather than gifts for their child.
Encyclopedia sets
Textbooks
Outdated reference materials
Books on cassette
Magazines, catalogs, & manuals
Videotapes & DVDs
How to Donate:
Currently, we are only able to accept in-person donations by appointment. You can schedule a donation time here, or by clicking the button below, to ensure that a staff member is available to meet you and receive your books.
Books may also be shipped to the same address from near and far! If you have questions about book donations, please email us at books@bookem-kids.org or call (615)255-1820 for more information.
Book Drives
Visit https://bookem-kids.org/give-books/ for in-depth information about book drives.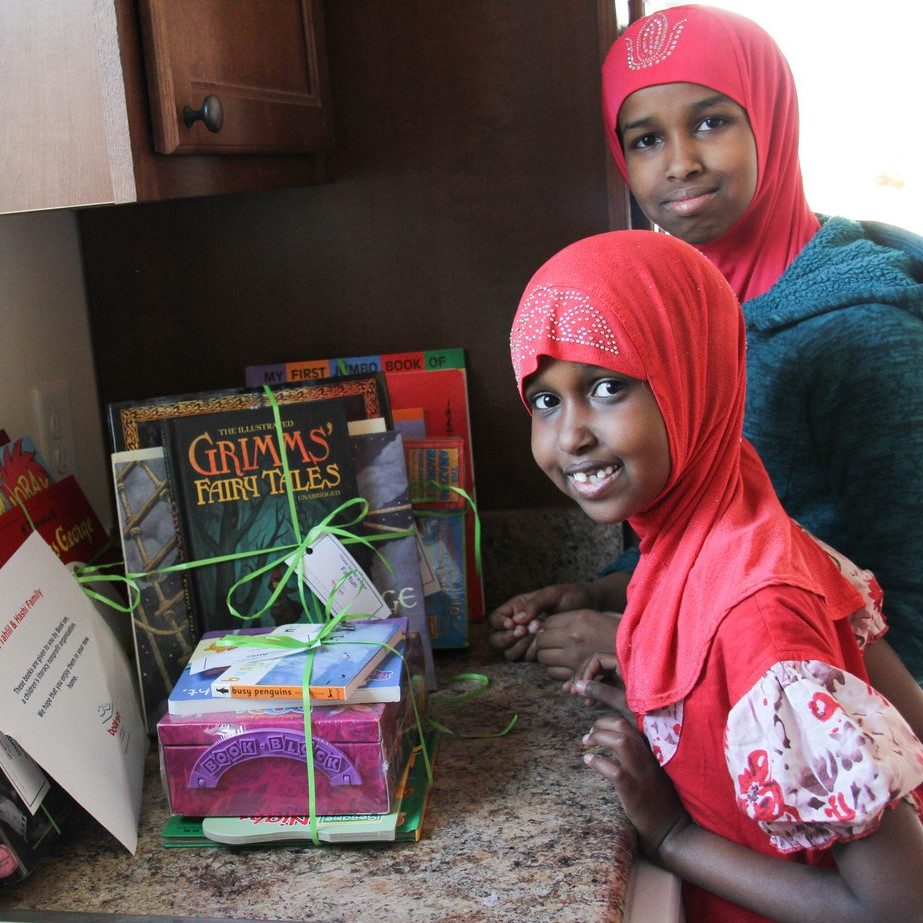 Habitat for Humanity Partnership
Book'em partners with Habitat for Humanity of Greater Nashville to provide books to children moving into their new homes. Books are handpicked, bundled, and personalized with a name tag before being taken to home dedication sites. When a new home is dedicated, every child in the household will find a book bundle waiting for them. It is our hope that these books will provide solace during a transitional time, and that having access to a home library will foster a love of reading in these families as a whole.