What is Read Me Day?
Read Me Day is an annual celebration of literacy hosted at Title I elementary schools to highlight the importance of books and reading, create a memorable literacy experience for children, and provide community-wide support for our local schools and students. Read Me Day events are organized in partnership with Metro Nashville Public Schools.
History: Read Me Day was started in 1986 by Frankie DeWees, a teacher at East Hickman Elementary School in Lyles, Tennessee, to celebrate the importance of reading. The event was called "Read Me Day" because students, teachers, and visiting readers were invited to wear a shirt, cap, or pin with a message on it so the children could "read the reader." Book'em has celebrated Read Me Day since 1990, growing the event from a single day into four celebrations hosted at different schools each year.
Are you a current volunteer for the 2021 Read Me Day celebrations? Click the button to the right to find your classroom assignment. The page is password-protected and the password can be found in your inbox in an email from Jocelyn Kirk with the subject line "Read Me Day Celebration Kick-Off".
We've currently filled all our volunteer reading slots! However we do have some additional volunteer opportunities available. If you're interested in helping out, peruse the options below and reach out to the relevant contact person. Thank you for your help!
(Remote) Write encouraging notes to students - Everyone needs a little encouragement. We always welcome encouraging notes that we can distribute to kids. Please email Chelsea Cahill at chelsea@bookem-kids.org to sign up to write notes. Deadline is Thursday, February 25th.
(In Person) Volunteer at the drive through events - If you're interested in helping out with book distribution at one of the schools, please email Chelsea Cahill at chelsea@bookem-kids.org to be connected to that school's liaison.

March 2nd, 4-6pm: We need 10 volunteers to help at the drive through event at Paragon Mills
March 11, 3-5pm: We need 6 volunteers to help at the drive through event at Churchwell
(In Person) Deliver books to schools - At its core, Read Me Day is about getting books in the hands of kids. This year, we need help delivering those books to the school prior to the beginning of each school's celebration. Due to weather and space restrictions pick up times and locations are TBD. However, if you're interested in helping out  with delivery please email Jocelyn Kirk at jocelyn@bookem-kids.org and we'll be in touch with specifics as soon as possible.

Paragon Mills book must be delivered on February 26th.
Churchwell books must be delivered prior to March 8th.
(In Person or Remote) Assemble or deliver school staff gifts- As a thank you to the hardworking educators, administrators, and support staff that have kept kids learning during this unprecedented time, we're providing gift bags for staff members at each school. If you'd like to help with either of the two following opportunities, please email Chelsea Cahill at chelsea@bookem-kids.org.

Assemble bags: pick up materials from NPT, assemble and return the week of February 22nd
Deliver bags: Pick up the morning of March 2nd from NPT and deliver to Paragon Mills and Churchwell.
Want to volunteer as a reader next year? Please complete our volunteer application and check "Read Me Day Reader" under areas of interest. If you are interested in volunteering for Read Me Day in other ways (event setup/cleanup, check-in assistance, photography, videography, etc.), please check "Special Event Volunteering." We will keep applications on file and reach out before Read Me Day events as needs arise. Sign up for our newsletter to stay in the loop about Read Me Day and other special events! Email Jocelyn Kirk at jocelyn@bookem-kids.org with questions or for more information.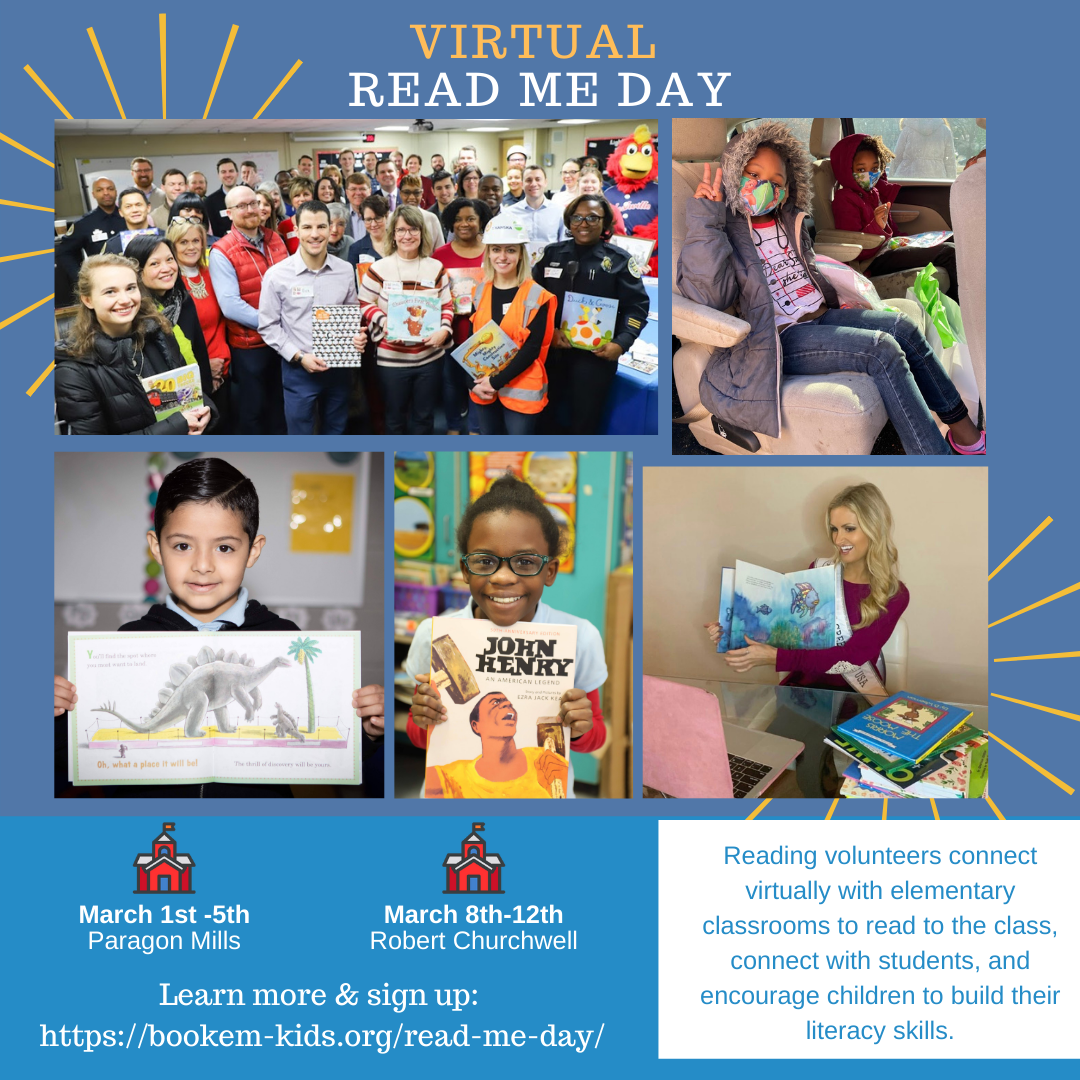 Read Me Day 2021 - A VIRTUAL Experience
Read Me Day is our annual celebration of literacy that showcases the importance of reading, as well as the hardworking teachers and students in our local school system. 2021 Read Me Day Celebrations will be two, week-long virtual events, held at Paragon Mills and Robert Churchwell Elementary schools.
Reading role models will connect virtually with specific classrooms throughout the week to read to the class, connect with students, and encourage them to build their literacy skills. At the end of the week, each student receives two brand new books to keep, and prizes are awarded to students, teachers, & classrooms for completing the schoolwide reading challenge. 2021 RMD celebrations will reach 900 children and involve over 100 community members.
Past special guests include...
Public figures such as mayors, judges, school board representatives, and Nashville city council members
Mascots such as Gnash (Nashville Predators), Booster the Rooster (Nashville Sounds), & Mr. Commodore (Vanderbilt University)
Beloved characters such as Spiderman, Rey from Star Wars, & an array of Disney princesses (courtesy of The Wishes Foundation)
Entertainers such as cheerleading squads and The GameMaster
Hometown heroes & career role models such as police officers, construction workers, authors & illustrators, chefs, news anchors, meteorologists, and so many more!