What is Read Me Day?
Read Me Day is an annual celebration of literacy hosted at Title I elementary schools to highlight the importance of books and reading, create a memorable literacy experience for children, and provide community-wide support for our local schools and students. Read Me Day events are organized in partnership with Metro Nashville Public Schools.
History: Read Me Day was started in 1986 by Frankie DeWees, a teacher at East Hickman Elementary School in Lyles, Tennessee, to celebrate the importance of reading. The event was called "Read Me Day" because students, teachers, and visiting readers were invited to wear a shirt, cap, or pin with a message on it so the children could "read the reader." Book'em has celebrated Read Me Day since 1990, growing the event from a single day into four celebrations hosted at different schools each year.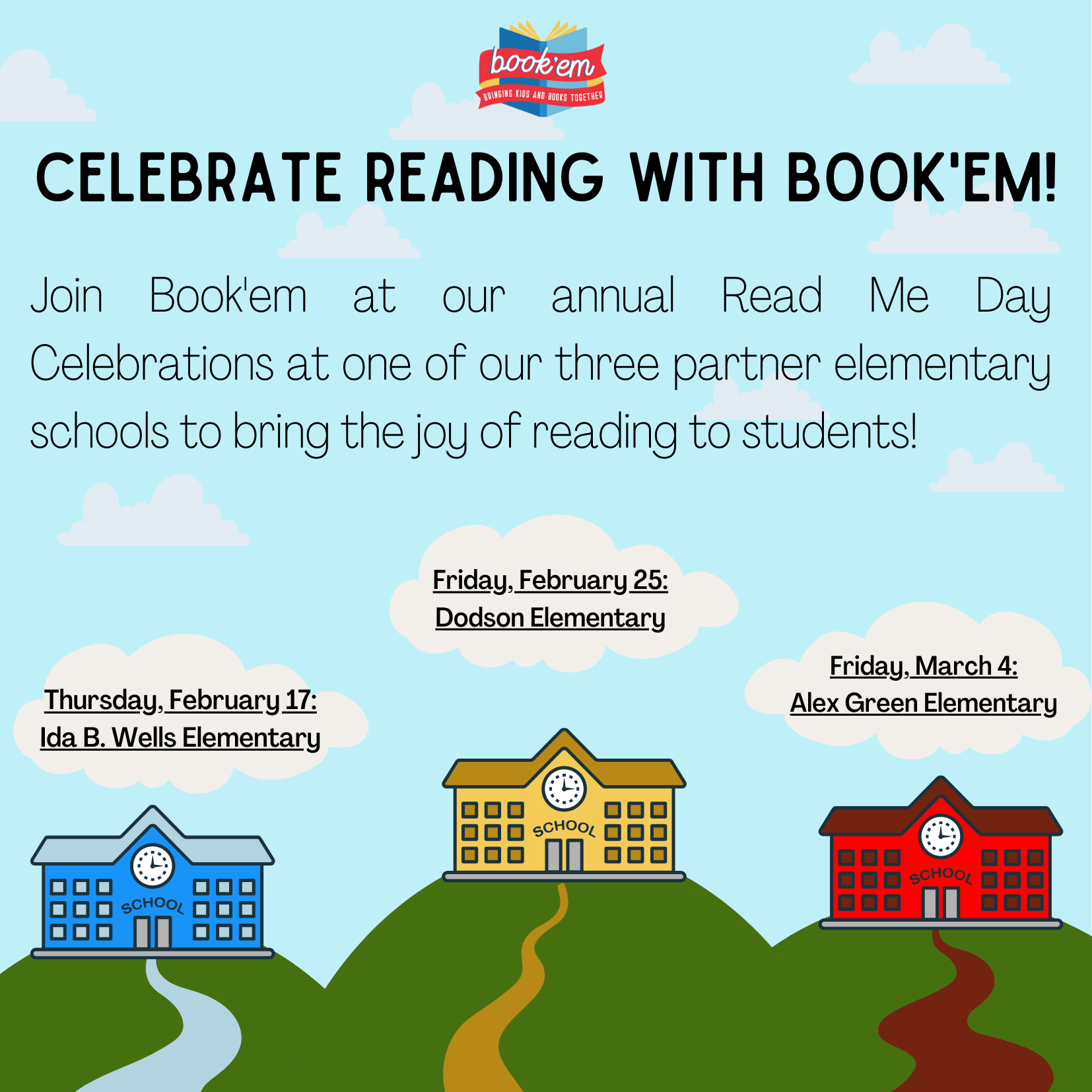 ________________________________________________________________________________________________
COVID-19 INFORMATION
We are excited to bring our Read Me Day Celebrations back in person to MNPS elementary schools. To keep this event fun and safe for everyone, we require all volunteers to follow COVID guidelines set forth by MNPS for their staff, students, and visitors. Masks must be worn at all times while in the elementary school. We will have hand sanitizer on hand throughout the entire event as well as gloves for those who would like them. Community guests, teachers, and students will socially distance as much as possible
Book'em's additional guidelines for volunteers state that if you feel sick the day of the event, we ask that you do not attend our celebration to lower risk of infecting students and staff. If you know that you have been exposed to COVID or another illness shortly before the event, we ask that you do not attend our celebration to lower the risk of infection. Book'em and our community schools are going to great lengths to create a healthy and safe environment, and we kindly ask that you do the same. Thank you.
_________________________________________________________________________________________________
Past special guests include...
Public figures such as mayors, judges, school board representatives, and Nashville city council members
Mascots such as Gnash (Nashville Predators), Booster the Rooster (Nashville Sounds), & Mr. Commodore (Vanderbilt University)
Beloved characters such as Spiderman, Rey from Star Wars, & an array of Disney princesses (courtesy of The Wishes Foundation)
Entertainers such as cheerleading squads and The GameMaster
Hometown heroes & career role models such as police officers, construction workers, authors & illustrators, chefs, news anchors, meteorologists, and so many more!