Annual Book'em Breakfast Celebration - Passports of Possibilities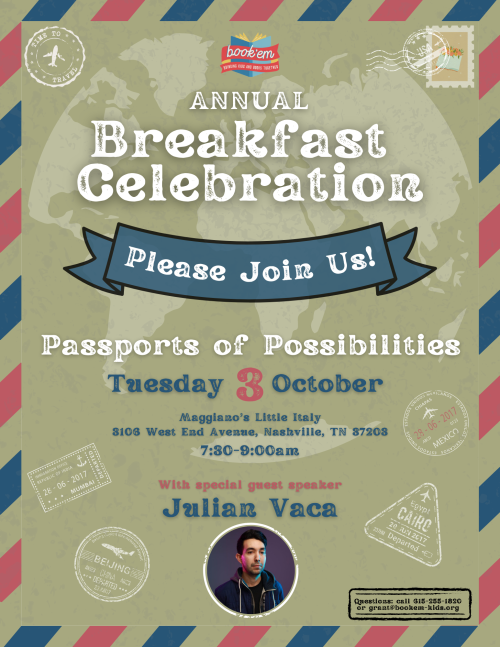 Save the Date:
 What are you doing 
Wednesday, October 6th at 7:30am
? Hopefully, you'll be enjoying an amazing breakfast with us at our breakfast celebration: 
Books and Beyond: Book'em's Next Chapter
! Stay tuned for more exciting details about the event, but in the meantime, mark your calendars! And if you know you will attend, you can 
RSVP here.
Please note that due to COVID, we are taking extra precautions for this in-person and virtual event.
-
If your company, foundation, or family would like to financially support our breakfast celebration as a sponsor, please email Melissa Spradlin (
melissa@bookem-kids.org
) for more information and take a look at the
sponsorship packet.
-
Do you serve kids in Davidson County?
Join us for a FREE community shopping day to stock your shelves with great titles appropriate for ages 0-15. 

WHAT:
The Great Summer of Reading
 is a county-wide reading initiative made possible by our incredible local bookstore, 
Parnassus Books

.
 Parnassus worked with publishers, companies, and authors to provide over 75,000 FREE books to keep Nashville's kids reading. They understand the toll the pandemic has taken on our young people and they certainly understand the value of a book!
We are so excited to be able to help provide books to the Nashville community, but we need your help! Anyone working with a school, program, or organization that serves low-income youth in Davidson County is invited to shop our shelves and stock up for the Back to School season!
All books are free and come pre-packaged by title in set quantities. 
 We encourage you to fill up your car with amazing titles to provide to your students! We'll have dollies on-site and staff will be available to help load cars.
View a sample of our inventory of titles.

WHEN: Wednesday, July 28, from 10 A.M. to 4 P.M

SAFETY: Upon arrival, you'll be required to sign in and have your temperature taken. At this time, we are adhering to CDC guideline and masks are only required for those who have not been vaccinated. However, if you or anyone you know have recently experienced any symptoms of illness, please stay home. 
Location and Directions
Riverside Revival is located at 1600 Riverside Dr in East Nashville. Look for the Book'em signs when you arrive. You'll enter through the back of the building, on the ground level, underneath the metal stairs.
There are two parking lots associated with the building, however street parking is also available on Riverside Dr, Porter Rd., and Porter Ave.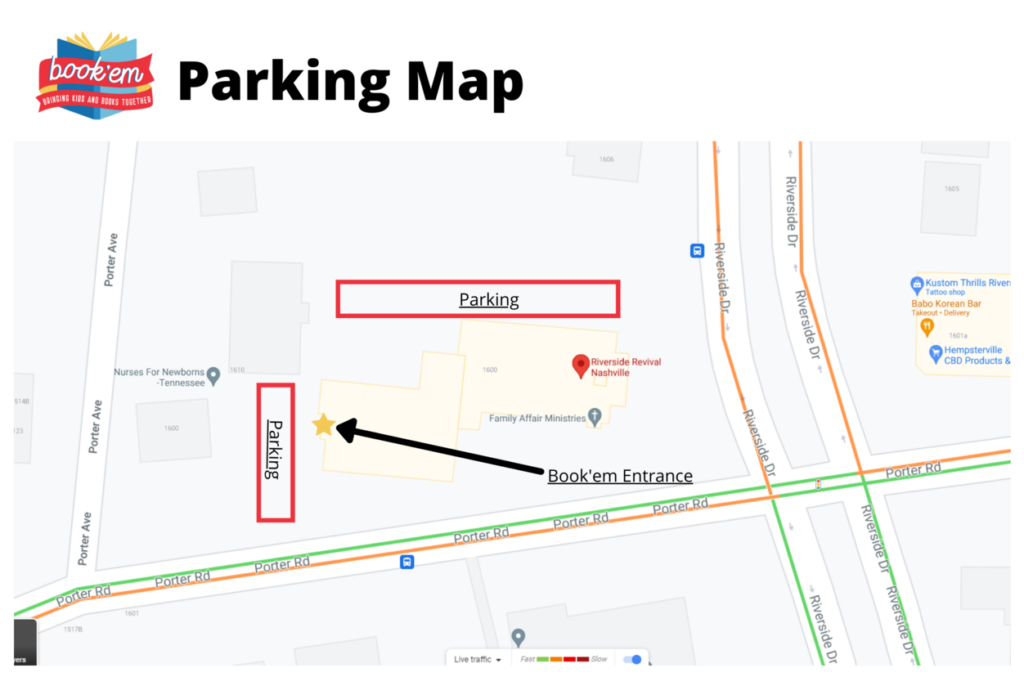 Join us for a FREE, virtual evening to support Book'em and kick off The Big Payback!
The Big Payback is Middle Tennessee's online, 24-hour giving day that runs from 6pm May 5th to 6pm May 6th, 2021. Visit www.thebigpayback.org/Bookem during that time to support Book'em with a donation or learn more here.
6-6:45pm: Cinco de Mayo Cocktail Class 
Dillon Mayfield, former head bartender at the Patterson House, will guide us through a step-by-step process to make Cinco de Mayo inspired cocktails (and mocktails!) Dillon specializes in making cocktails from everyday ingredients, so you may already have everything you'll need for the class! However, a list of ingredients will be sent out one week prior to the event. Dillon will walk us through the process, answer questions, and leave us feeling like expert mixologists!
7-8:30pm: In the round with Nashville songwriters and poets
Listen to the beautiful words and stories of acclaimed spoken word poets and bluebird-regular songwriters. We are extremely grateful and excited to have such talented and renowned artists performing! The show will mimic the famous In the Round style of the Bluebird, with artists taking turns sharing their work and the stories behind the music.
Artists include:
Tony Arata, Imani Rhema, Andre Anderson, Annie Mosher, and Melissa Anne Smith
Tony Arata was born in Savannah, Georgia and grew up on nearby Tybee Island. While studying for a journalism degree from Georgia Southern University, he began performing his originial songs in local bands. In 1986, he and his wife moved to Nashville where his unique, soulful style began to get the attention of people like Allen Reynolds and Garth Brooks. Garth to date has recorded seven of Tony's songs, and "The Dance" won song of the year at The Academy of Country Music and received both a Country Music Association and a Grammy nomination, as well as a most performed song in Radio and Records Magazine. Tony has also had No. 1 records with "Here I Am" for Patty Loveless, "I'm Holding My Own" for Lee Roy Parnell, and "Dreaming With My Eyes Open" for Clay Walker. Other artists who have recorded his songs include Emmylou Harris, Bonnie Raitt, Trisha Yearwood, Delbert McClinton, Don Willams, Reba McEntire, Suzy Bogguss, and Hal Ketchum. Tony has also done three solo albums featuring new songs, covers, and guest appearances by many of Nashville's finest musicians as well as folks who have recorded his songs, including Garth, Patty, and Lee Roy.
Native to Nashville, Tennessee, Imani Rhema is a local poet and spoken word artist. Imani is the artist's self-given name, meaning Faith in Swahili. She chose this word to define herself because her beliefs often are the basis of the poems she writes. Rhema (pronounced RAY-ma) can be defined as 'prophetic word' in Hebrew and in Greek. The word rhyme derives from it.
Imani Rhema has been writing rhyme in the artistic forms of poetry and songs since the age of 12.  "I write about the beauty of being African American, its situations and circumstances." She has penned thought-provoking poems with topics ranging from being a single mom to growing up listening to hip hop music in East Nashville. "This is my passion, my calling, my escape, my purpose. I call my style of writing Souletry". Imani is the founder of the Soul Food Poetry Cafe, an event that showcases live music and spoken word talent that has been in operation since 2007.
"My grandmomma wasn't fattening frogs to feed snakes", Andre Anderson reflects on the gifts inside of every breathing human. He furthers,  "... if not developed (gifts) become consumed by the frivolous." Andre signed a recording contract with Pinnacle Entertainment in 1997 (CEO Marc Harris, producer of Michael McDonald's Christmas Albums). He is from South Bend, IN, graduate of Indiana University South Bend, Master's Degree from Fisk University and Doctoral work at Trevecca Nazarene University(ABD). Andre pioneered, "Chocolate Covered Chivalry" , a romantic-poetic venue in 2006 with Lovenoise. He would go on to become the featured poet at Joseph Warren Walker III's wedding ceremony and  BET highlighted an original piece during it's National Black History Month Campaign https://youtu.be/DTp1Q87_Gaw.  It is by the blood of Jesus, and the school of hard knocks that Andre injects inspiration into audiences.
For the past 25 years, Annie Mosher has woven her unique and image-driven songs in and out of Nashville's beloved listening rooms, making music city her own stage for the art of storytelling in song. Annie grew up in the Northeast Kingdom of Vermont, but she knew she'd get to Nashville one day to share the songs she had been writing since she was 3. She stepped on stage at The Bluebird Cafe open mic never having touched a guitar before but sang her 2 allotted songs acapella for a crowd of stunned writers and listeners. She began playing the guitar and singing with the bawdy, lovable group Girls With Guitars, and then started playing her own shows soon after. She was soon awarded high recognition as a songwriter at the Kerrville Folk Festival, where she won the prestigious New Folk award in 2002 for her heart-wrenching ballad, Nobody's Child. After Kerrville, Annie went on to travel throughout the southwest telling the songs and stories of her time on the rodeo circuit riding and roping, and her years in New York City and Boston as an actress on stage and film. Her poignant song Goldfish was recorded and produced by Alan Parsons in 2014, putting her on the map as one of Nashville's most precious Americana gypsies, a free spirit with a fiercely loyal following. She lives in Nashville with her husband and 2 children and performs as wildly and vibrantly as she ever has. She welcomes every opportunity to play and sing for her audience, and most enjoys meeting her fans after every show. She is a true gem of a writer, and her warm heart and engaging soul keeps her so loved in Nashville and beyond.
Melissa Anne Smith ~ aka ~ Lady Anne ~ aka ~ MelissaPensItDown and creator of HoneyBee Productions is from Nashville,TN. She received her Bachelor of Science degree, cum laude in Mass Communications/Journalism, with Business minor at Tennessee State University, May 2008. She is a writer, poet, artist, film maker, producer, and director, who has created art since her youth.She has performed as a spoken word artist in 2017's and 2020's "Upon These Shoulders" concert in conjunction with Choral Arts Link, Fisk University and Intersection of The Nashville Symphony. Melissa was a featured poet in Nashville Visionaries: Concept and Curation by Carl Pope, Tennessee State University Art Department 2018. Her first self-published book of poetry "Heart For Sale 70% Off", 2018, was the #1 New Release in Women's Poetry on Amazon.com, September 2018. In alignment with her work in the arts, she has been a Chaplain and Arts Committee Chair of Upsilon Psi Omega, graduate chapter of Alpha Kappa Alpha Sorority, Inc., Nashville, TN. Melissa's mission is to promote positive and powerful self-awareness for women, girls, and youth of color through Arts advocacy. She strives to continue to tap into and express her creativity through creative writing, poetry, and film. https://www.melissapensitdown.com/
Dillon Mayfield was previously the Head Bartender at one of the most established cocktail bars in Nashville, The Patterson House. This required him to know hundreds of cocktails off the top of his head and to know how to make them—fast. What he learned from his time there is that making cocktails at a bar and at home are two very similar things. You just need to know what to do with what you have! This is Dillon's specialty. He is now the resident cocktail wizard (slash recruiter) at IQTalent Partners, a local recruiting agency in Nashville.
Yes! While it is a free event, space is limited. Only guests who RSVP will get the zoom link.
We will use a private Zoom link with a password. You must RSVP in advance to get the link and password.
RSVP here, and we'll follow up one week before the event with the Zoom link and password. 
Yes! As long as you will be joining from the same Zoom account, your RSVP can include a group. 
Absolutely. You can join for both the cocktail class and performances, or just one portion of the event. (6-6:45 cocktail class, intermission 6:45-7, 7-8:30 performances)
Dillon specializes in making cocktails from everyday ingredients, so you may already have everything you need! However, a list of ingredients will be sent out one week prior to the event with anything you may need.
Thank you! You can support Book'em by 
Donating through The Big Payback - A $50 donation will provide 125 books for Nashville kids this summer
Sharing about this event and Book'em on your social media on May 5th and 6th