Welcome to

Grade Level Reading Week!

 
This summer we're excited to be celebrating Grade Level Reading Week. Starting Monday, July 13 through Friday, July 17, we'll be sharing information and activities that promote grade-level reading.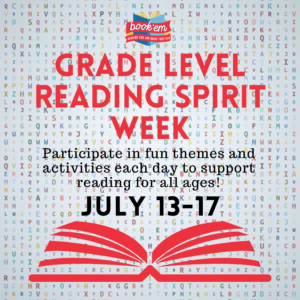 Research shows that proficiency in reading by the end of the third grade enables students to shift from learning to read and reading to learn, and to master the more complex subject matter they encounter in the fourth grade curriculum.  
The Grade Level Reading Campaign is a national, collaborative effort by foundations, nonprofit partners, business leaders, government agencies, states, and communities across the nation to ensure that more children in low-income families succeed in school and graduate prepared for college, a career, and active citizenship, by focusing on grade-level reading by the end of third grade. Book'em is proud to partner with Blueprint for Early Childhood Success to on this city-wide celebration and to raise awareness on this growing issue.
This year, as we grapple with the disruptions imposed by COVID-19, the average student could begin the next school year having lost as much as a third of the expected progress from the previous year in reading according to a working paper from NWEA, a nonprofit organization, and scholars at Brown University and the University of Virginia. 
We encourage you to join us as we celebrate Grade Level Reading Week here in Nashville!
Every day of the week, we'll be sharing information and fun, educational activities for kids and families. Fill in one heart for every activity you complete, and share your progress with us on social media! When you finish the week, print out your crown and decorate it to celebrate your win!
Tag us on social media and use #NashReads, #GLRWeek, and #bookemspirit so we can find your posts!