Garth Brooks and Book'em's Country Music Roots
Almost every organization based in Music City at some point will brush up against the country music industry. For Book'em, the connection started with the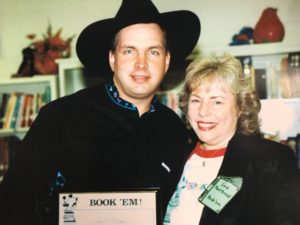 class of 1989.
The class of '89 refers to a group of artists who changed the name of the game for country music. Clint Black, Alan Jackson, Mary Chapin Carpenter, Travis Tritt, and Garth Brooks all emerged over the course of the year 1989, bringing with them a new era filled with platinum selling records, standing room only concerts, and new found respect for the music genre.
1989 also marks a key moment in the Book'em history as our founding year. Chapman, Esteves-Gil, Fairbend, and Harnisch were setting the foundation for the new nonprofit, and knew publicity would be key to getting the organization off the ground. They turned to friend and owner of the Bluebird Cafe, Amy Kurland, for help.
Within a few years, the Book'em team established Read Me Day as a core program - a celebration of literacy held in an elementary school, which brought in members of the Nashville community to highlight the value of books and reading. Kurland secured an up-and-coming artist as the celebrity host for the 1991  Read Me Day celebration. His name was Garth Brooks.
Brooks was the last to join the class of '89, but from that point forward his career skyrocketed. By 1991, all three of his albums were in the top five on the Country Album Charts. In face, he went on to win a record-breaking 6 awards at the Academy of Country Music (ACM) awards. The awards show was held on April 24th, 1991 at the Universal Amphitheater in L.A. - the night before he was scheduled to host the Read Me Day celebration back in Nashville.
The Book'em team was thrilled for Brooks, but quickly got to work making alternate plans for their guest reader spotlight. Before they could get too far, Brooks confirmed the time of his reading the next morning. He was on a red eye back to Nashville to make it in time to read to the students.
The morning with Brooks was a huge success. Brooks read Love You Forever, demonstrated the value of literacy in his own career, and encouraged Nashville's kids to believe in themselves and their reading skills. Through it's been many years, Brooks continues to be a champion for Book'em. He writes:
"There are three keys to success, world peace, and survival of the human race. Those three keys are education, education, education. My hat is off to Book'em for their tireless efforts to better all of us through its literacy programs."
Book'em continued to keep music in the mix, hosting Faith Hill and Little Big Town as celebrity chairs for later Read Me Day celebrations. We've partnered with singer/songwriters/children's authors Crystal Day and Ketch Secor for various events. We also received book donations from CMA and are excited to have members from the ASCAP community involved in our Reading is Fundamental program for the 2019-2020 school year.
In addition to helping Book'em gain publicity in our early days, the support of Nashville's music industry alludes to an even more important factor - it takes a community-wide effort to make a difference in the lives of our youth. We appreciate the role that our music industry partners s play to support the work of Book'em and Nashville's kids.