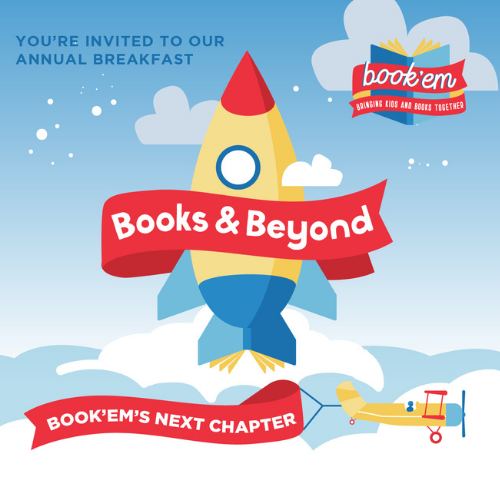 Books & Beyond: Book'em's Next Chapter
Annual Breakfast Celebration 2021
With Special Guest Speaker, Ann Patchett, international best-selling author and co-owner of Parnassus Books
Wednesday, October 6, 2021
7:30 – 9:00 am
Maggiano's, 3106 West End Ave, Nashville, TN 37203
(Free parking garage behind the restaurant)
Enjoy breakfast, inspirational speakers and learn more about how Book'em is expanding to serve more children in need.
In-person and virtual options available for attendees.
There are three ways to get involved with Books & Beyond: Book'em's Next Chapter.
While the event is free, attendees will be asked to make a donation to Book'em to help with our expansion plans, so that we can serve more children in need in Davidson County. A suggested minimum donation is $50.
Interested in learning more about how your company can become a sponsor? Click the button for more information or contact Melissa Spradlin at Melissa@bookem-kids.org or call 615-255-1820.
Can't attend this year, but want to donate to support more children? Click the button to make a donation online. Or mail a check made payable to Book'em to Book'em, 161 Rains Ave, Nashville, TN 37203.
Health and Safety Precautions
Because of COVID concerns, we are instituting some health and safety precautions:
In-person and virtual options available for attendees.
Only fully vaccinated people may attend in person.
Attendance will be limited to 100 people to allow for social distancing and fewer people at each table.
We ask that attendees wear a face covering when not seated at their tables.
The breakfast will be family style at each table instead of a self-serve buffet.
If you feel unwell the day of the breakfast or are uncomfortable with these precautions, please do not attend in person.
An online link will be shared via email with those who prefer to attend virtually.
If it is determined that having an in-person event is not viable because of government regulations or health restrictions, the event will be held completely virtually.
We're excited to celebrate and share our plans for the future with you!