The Big Book DRIVE is a city wide book drive + fundraiser designed to bring books to Nashville's kids, and garner community wide support as our children, teachers, and schools begin a challenging school year. This literacy-driven initiative has two main components: A week-long book drive to collect as many books as possible, and a culminating drive-through car parade to bring all the books together, raise money for Book'em, and come together as a community to celebrate Nashville's kids. Individuals, families, schools, community groups, companies, and more are invited to participate by hosting a book drive (virtual or in person), making a donation, and/or participating in the car parade.
How to Get Involved
Participate in the Car Parade September 26th - Individuals, families, community groups, companies, and more, are invited to drive through the car parade to show their support of Nashville's kids. SIGN UP HERE!
The parade will include Loveless Cafe biscuits and Bongo Java Coffee for the first 250 guests!
Enter the car decorating contest by Nokian Tyres to win prizes from local businesses -- create your own Magic School Bus!
Make a monetary and/or children's book donation to Book'em, to support the literacy development of Nashville's underprivileged youth.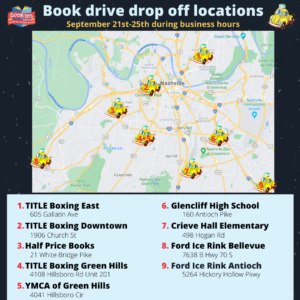 Can't make it on the 26th? 
Donate books at one of the following public donation sites:
Great question! Book'em is always in need of new books for ages 0-18, that cover a wide range of subjects.  We've put together a catalog with our most-needed kinds of books. 
View the Big Book DRIVE Catalog. 
We also always accept new, like new, or very gently used children's books. 
Guests will remain in their cars for the entirety of the car parade. Book and monetary donations can be handed through car windows or left in the trunk of cars for Book'em volunteers to pick up. 
Day of volunteers will have their temperatures checked the morning of the event, and are required to wear appropriate PPE. 
All donated books will be quarantined for 72 hours before being sorted and organized by Book'em staff members. 
The Car Parade will run from 9am-11am. You may come by at any point during that time frame. Plan to spend 15 minutes in the drive through event.
Anyone who wants to support Nashville's kids! This is an event intentionally designed to welcome all. If you do not live in Nashville but would still like to participate, you may make a donation towards the virtual book drive (link to virtual book drive landing page)
The car parade is a free event to attend. Donations to Book'em are always welcome and appreciated. You may bring cash or check made payable to Book'em, text READING to 44-321, or make a one-time donation to Book'em here 
There are lots of ways you can help get books to Nashville's kids, even if you can't make it to the event on Saturday, September 26!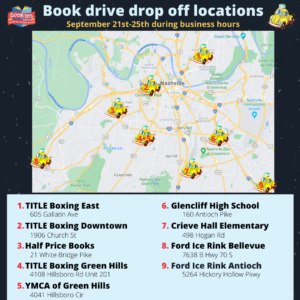 Donate books at one of the following public donation sites:
We hope you'll join us this fall as we work to support Nashville's kids!